Here is the context of a series report under several case studies on Sundarbans, which will analyse the impact of climate change on biodiversity access and wildlife trade.
Sundarbans, the largest mangrove forest of the world, provides livelihoods for three to five million people from the southwest coastal belt of Bangladesh. It is also the home to the Royal Bengal Tiger, a great source of pride for Bangladesh. As a top predator and flagship species, the tiger plays a significant role to protect Sundarbans biodiversity.
However, illegal poaching and wildlife trade are the top factors affecting tiger populations. A gang of over 30 jungle pirates are active in tiger killing and illegal fee collection from local forest resource of Sundarbans.
To protect biodiversity, the forest department is the steward of wildlife and natural resources of the Sundarbans. However, the team has limited survival resources, minimal logistical support, and security to conduct their work. Despite these challenges, one of the priority interventions is to advance patrol monitoring systems in the Sundarbans. 
The national park laws regulate the access to natural resources of Sundarbans. So, it is hard to monitor due to its landscape and tidal nature, dangerous animals and pirate activities along the Bay of Bengal. 
Moreover, wildlife trading of hides and skins, teeth and other bones, bushmeat is taking place. It is necessary to stop the illegal trading of wildlife products.
Besides, the Sundarbans faces several challenges due to climate change. With rising sea levels, islands are disappearing, and the increasing salinity in the water and soil has severely threatened the health of mangrove forests and the quality of soil and crops.
Climate change has already produced numerous shifts in biodiversity and changes the livings of the local people.
Forests and agricultural systems are vulnerable to increased disease and pest outbreaks as a result of changing climate.
In these backdrops, this team aim to work with different cases on the Sundarbans.  
This team will closely monitor the impact of climate change on the biodiversity of the Sundarbans.
They will try to find why local people are influencing the wildlife trade.
This project is a joint project by Zulker Naeen, a south Asia Fellow at Climate Tracker and Mahfuzur Rahman, a special correspondent at Anada TV.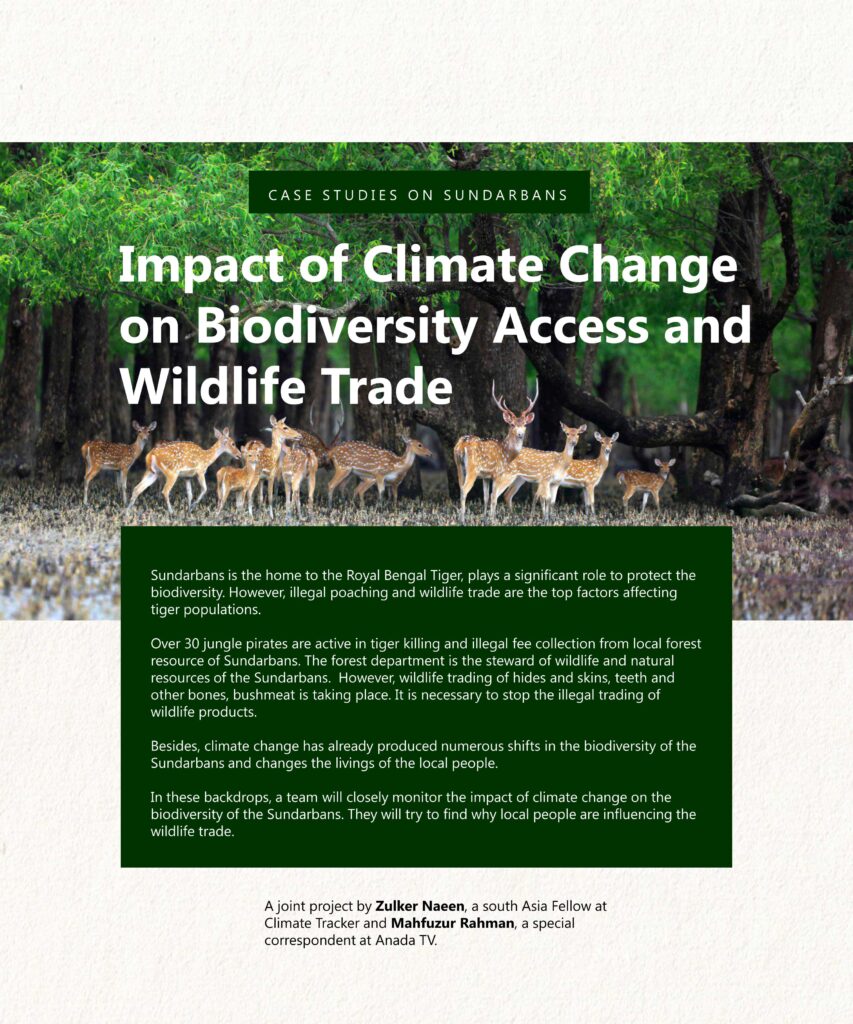 About Zulker Naeen
Zulker Naeen covers stories of climate change-induced food insecurity, natural calamities, and migration. As a citizen of one of the most climate-vulnerable nations, Zulker focuses his work on climate change. He works with the Climate Tracker to report climate resiliency for vulnerable women and access to climate finance.
Zulker involves in the Climate Tracker South Asia network, which improves the environmental consciousness of youth. 
Naeen is also one of the Bangladeshi to win the South Asia Fellowship under Climate Tracker, is a global media network that closely works on Climate Change. 
Zulker is also a Train the Trainer certified journalist who can design any climate change journalism course.
Zulker Naeen has developed courses with the support of other Climate Tracker staff. As a young climate advocate, his fellowship aims to share knowledge of climate change.
About Mahfuzur Rahman
Mahfuzur Rahman is a special correspondent at Anada TV and Millennium TV USA. His portfolio has more than fourteen years of experience in local journalism amid five years of Sundarban issues.  
He covers stories of Sundarbans and natural disasters of coastal areas of Bangladesh. As a correspondent of Bagerhat, Mahfuz focuses his work on Sundarbans and grassroots. He works with the different national media to report climate and environmental issues.
He teamed up with Zulker Naeen on a project focused on Sundarbans and climate change.
Recent Posts