Anyone active in business needs unyielding knowledge and information in the form of market insights. Zulker Naeen, as a portfolio supervisor of "Bangladesh Lube Market", provides the latest information through an industry-leading document database.
The exclusive documents are an invaluable argumentation and decision-making resource for manufacturers, distributors, investors, and anyone interested in developments of the growing lube sector.
It offers a detailed independent appraisal of the finished automotive and industrial lubricants industry. It identifies market opportunities and challenges for lubricant suppliers, additive suppliers, and base stock manufacturers.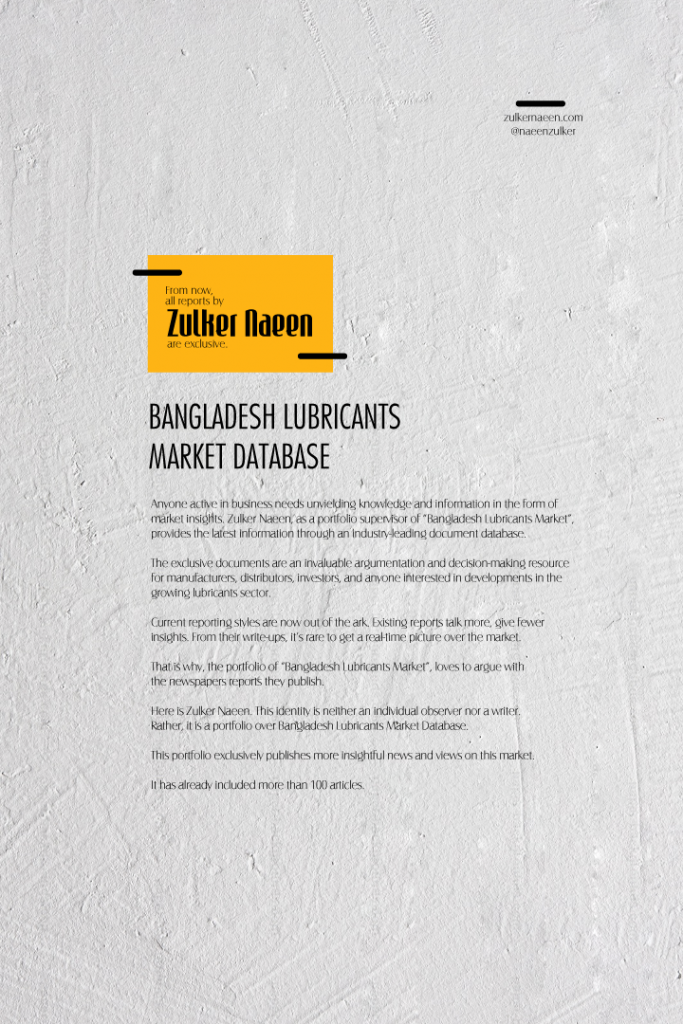 Current reporting styles are now out of the ark. Existing reports talk more, give the least insights. From their write-ups, it's rare to get a real-time picture over the market.
That is why the portfolio of "Bangladesh Lube Market" often argues with the reports by the newspapers.
Here is Zulker Naeen. This identity is neither an individual observer nor a writer. Rather it is a portfolio on Bangladesh Lube Market Database.
This portfolio exclusively publishes perceptive reports on this market. It has already included more than 100 articles.
Recently, consecutive news reports identified the growth of "Bangladesh Lube Market" which is exponential one.
Besides, this portfolio highlighted the growth of this market earlier. Its research-oriented facts have made it a mouthpiece of this trade for the last four years. Those who rely on market insights are working together for this portfolio.  
It has worked as a campaigner of a few noted lube brands. With great success, it has done with the brand positioning of global brands.
It believes that the lube trade is not limited to business only, it's a market.
As a watchdog, this portfolio has coined the term 'lubricants shelves of Bangladesh' to publish different insights. Currently, a dedicated team is working closely on this concept.
This portfolio exclusively publishes market insights, current market trends, and market forecasts by nature.
Also, it publishes articles on the automotive sector.