To meet the growing demand for automotive engine oils, equally, the motorcycle oil segment is eyeing significant growth.
In our country, the rise of motorcycle users throughout the nation, popularity of ride-sharing, and the favorable motorcycle assembling, leading to the eventual manufacturing has created that opportunity for this segment.
On an assumption, motorcycle oil segment has 5% to 8% of the total market share, which is around 10,000 tonnes litter.
Surprisingly, the number of motorcycles has doubled in Dhaka over the last eight years.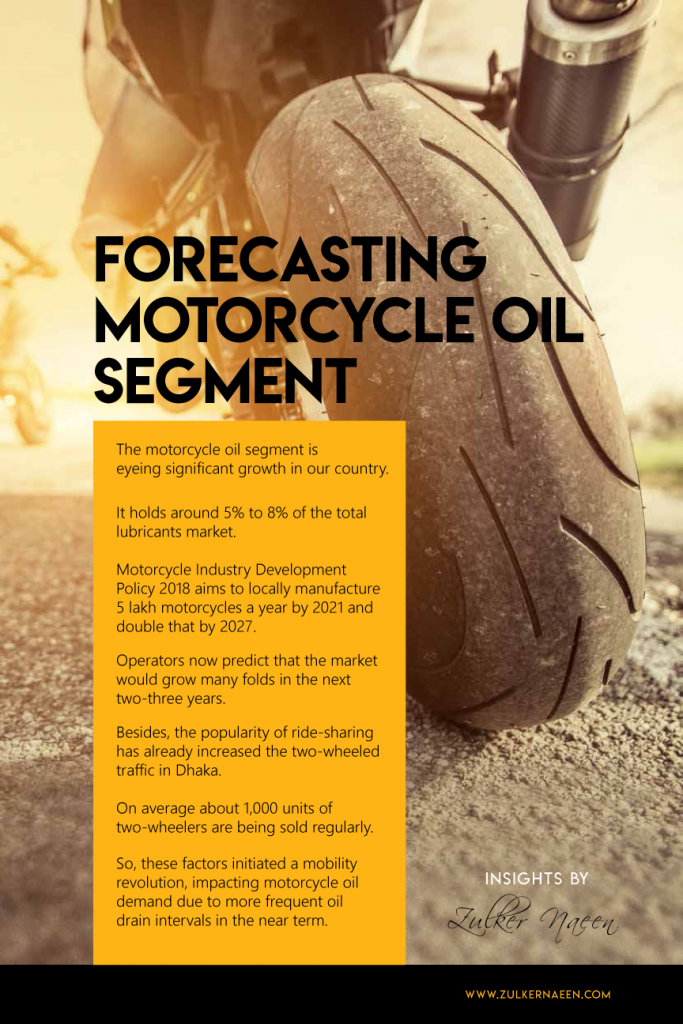 According to the Bangladesh Road Transport Authority (BRTA), the number of registered motorcycles increased to 4, 69,888 in April 2018 from 2, 10,081 in 2010.
Around 75,251 motorcycles were registered with the BRTA in 2017.
The Motorcycle Industry Development Policy 2018 is now effective to facilitate the motorcycle manufacturing process to meet the domestic demand. There, the manufacturing policy already created a market for both industrial engine oil as well as the motorcycle engine oil.
This manufacturing policy aims to locally manufacture 5, 00, 000 motorcycles a year by 2021 and double that by 2027.
Operators now predict that the market would grow many folds in the next two-three years.
Besides, the popularity of ride-sharing has already increased the two-wheeled traffic in Dhaka.
On average about 1,000 units of two-wheelers are being sold in the country as the demand is rising. Five years ago the number was around 550.
So, the motorcycle oil market is on the cusp of significant change triggered by forces shaping the future of mobility.
The ride-sharing companies has already initiated a mobility revolution, impacting motorcycle oil demand due to more frequent oil drain intervals in the near term.
However, opportunities for partnerships to this market or use it as a new channel to market is among the positive factors.
In the ride-sharing model, major motorcycle oil brands need to look to the future, as questions such as who will be making the decision on the 'brand' of 4T oil at the time of an oil change will be raised.
Most oil players in this market have already created their footnotes and become desperate to this segment. Many reputed from America, UK, Japan, Russia, Indonesia, Thailand, and India is available.
Therefore, the motorcycle oil segment is looking at the rising development on the growing motorcycle industry, and the impact of these factors on 4T oil demand.