If you are looking for 50 Lakhs++ Project Value Financial Consultancy, we are here to help you.
Our services:
Small and Medium Enterprises (SME) loan processing, project profiling, project loan extension, and easing project loans.
If you are a regular businessman and have a regular transaction in bank, and willing to give the necessary collateral, you may take help from us.
Feel free to mail us at responsetocovid19@gmail.com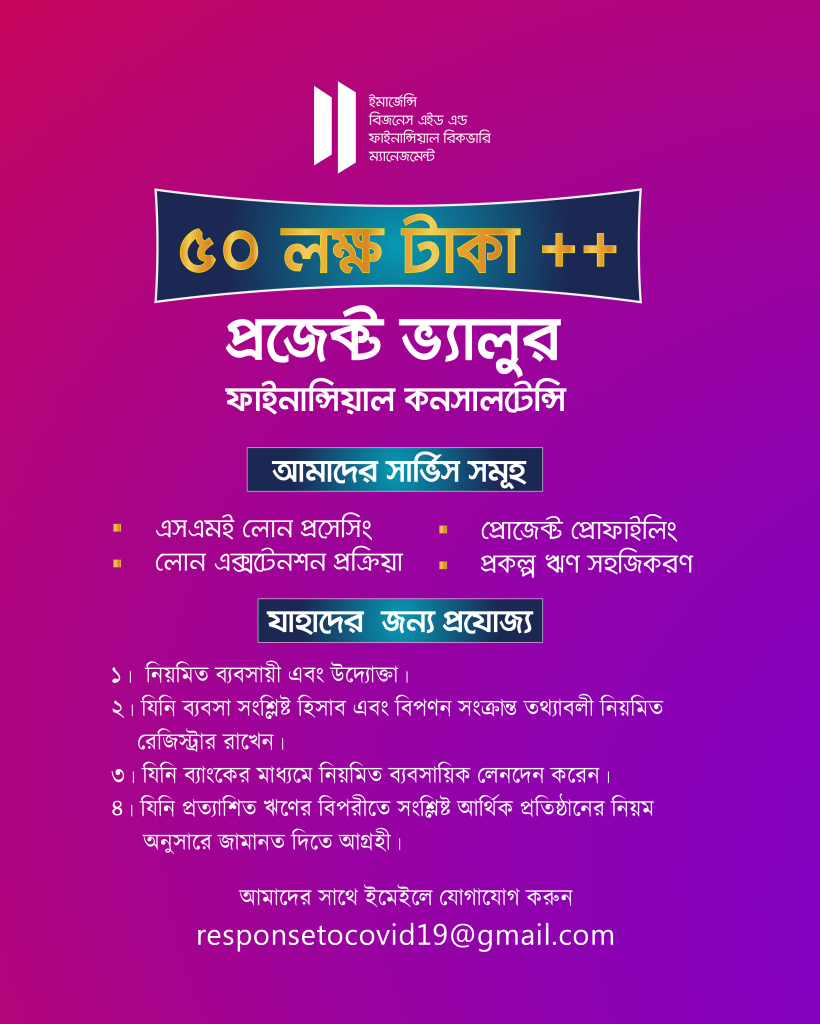 About The Program
Our financial recovery management in response to COVID-19 is an inclusive program to support the development of small and medium-sized enterprises. Our inclusive program aims to serve our customers in a sustainable manner through a market-led approach. The distinction of this program lies in the clear identification of emergency business aid to create opportunities in the post-COVID world.
Our vision is to build an inclusive credential on financial recovery management in response to COVID-19 engaging services to the private sector. Our strategic objective is recovery through innovation.
Key Strategies
Integrate govt. announced stimulus packages to implement the immediate, short and long phases through increasing monetary supply.
Applying our expertise in aid to innovate products and services for economic and social development.
Concept testing to scale-up new or existing services.
Understanding customer's need and national priorities to decide among alternate investment opportunities.
The multi-stakeholder partnership includes banks, financial institutes, national and global private sector leaders, and academia.
Our Services
Emergency Business Aid Support
Present scenario confirms that small-scale enterprises are in a crisis of working capital. Therefore, we are expecting to deal with those profiles requires emergency business aid in response to COVID-19. Moreover, our business outreach strategies for financial recovery is well defined for agriculture and small and medium-sized enterprises.
Market Research & Project Financing
Ongoing business with infrastructure is at the core of the emergency business aid. Our team aimed at reorganizes of business models, services and community outreach strategies for any kind of project. Besides, we understand the value of market research to facilitate innovation and create the opportunity for the next economy.
Consultancy
We are in COVID-19 timeline; however, the leadership behind our approach draws on many years of experience in project financing both at home and abroad. We offer a range of consulting services that aim to ease the business development of enterprises (SMEs) and initiatives engaged in agriculture.
Other reports
Climate Change and River salinity in coastal areas.
Climate change causes substantial changes in river salinity. Accordingly, it leads to the crisis of drinking water as well as the shortage of irrigation water.
Shortly, the changes in river salinity will unpleasantly affect the productivity of many capture fisheries. Negatively, it will affect the wild habitats of freshwater fish and giant prawns.
The health of Mangrove trees is declining.
A new study says the health of mangrove trees of the Sundarbans has significantly declined over the last 30 years due to salinity increase.
Consequently, the decline in health could critically hamper the ability to spring back. It makes it prone to unexpected climate-related hazards.
Also, the salinity increase in the water may induce a shift in the Sunderbans mangrove forest from Sundari to Gewa and Guran.
Accordingly, Bagerhat, Barguna, Barisal, Bhola, Khulna, Jhalokati, Pirojpur, and Satkhira districts will be most adversely affected.
Climate Change, Soil Salinity in Coastal
Bangladesh.
Soon, the salinity level in the soil will surge in many areas of Barisal, Chittagong, and Khulna districts significantly. A study on the soil of the coastal regions of Bangladesh, the Soil Research Development Institute projects a median increase of 26% in salinity by 2050, with increases over 55% in the most affected areas.
Climate Journalist
Zulker Naeen is a South Asia Fellow at Climate Tracker and freelance climate journalist from Bangladesh. He has three years of experience in the field. Zulker developed all his courses with the support of other experienced Climate Tracker staff credited on the course landing page.
As a young climate advocate, his fellowship aims to share knowledge of climate change. Climate Tracker is a global media network closely works on Climate Change.
Climate Change Journalism Workshop in Bangladesh Now
Covid-19 Pandemic and Climate Change
Ocean acidification and marine ecosystem