Marketing guys understand integrated marketing communication, digital marketing, marketing mix, multi-level marketing, marketing strategies, social media marketing, and the affiliated-marketing very well.
These are the key topics discussed most in Marketing and Communications. So far, digital marketing and affiliated-marketing are relatively new terms in our country.
But every client interested takes the shelf in the search engines needs solid knowledge on SEO in the form of market insights and reports. But the SEO service providers in our country are yet to convince the clients about its necessity.
Still, clients understand Facebook only while talking about digital marketing. It is because of data-driven information and reports.
We all know how to use the tools, but we are yet to exploit the search engines.
Moreover, it is a reality that digital marketing agencies lack quality content writers in Bangladesh. It's a bitter truth.
Content and SEO go hand-in-hand. Without one, your energies on the other are utterly weakened. You have to realise that the quality contents are the key to SEO.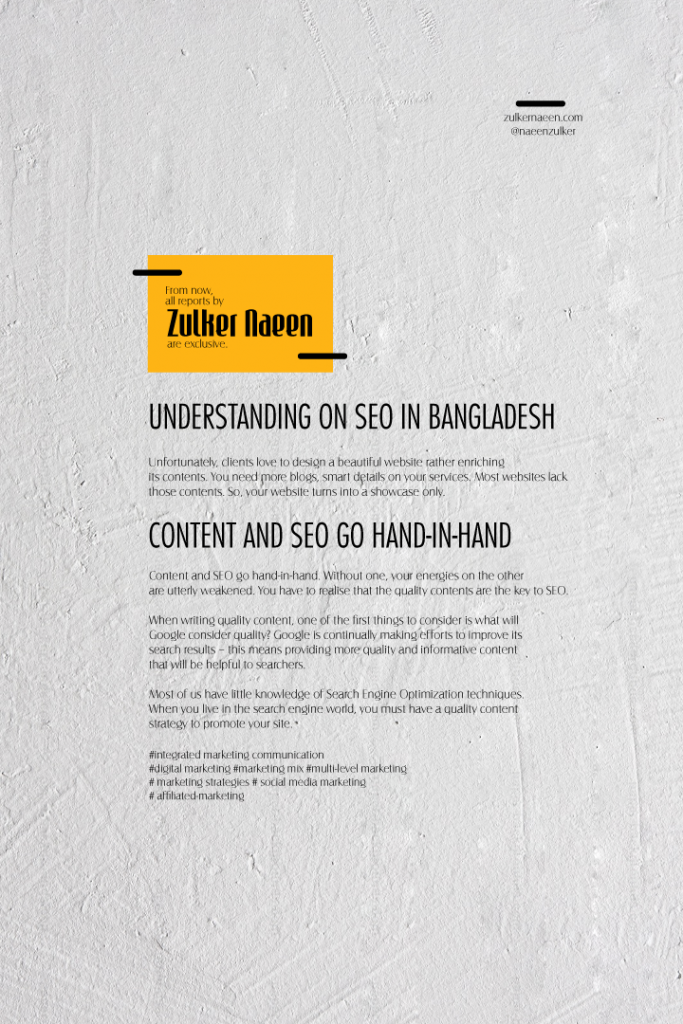 When writing quality content, one of the first things to consider is what will Google consider quality? Google is continually making efforts to improve its search results – this means providing more quality and informative content that will be helpful to searchers.
Most of us have little knowledge of Search Engine Optimization techniques. When you live in the search engine world, you must have a quality content strategy to promote your site.
Unfortunately, clients love to design a beautiful website rather enriching its contents. You need more blogs, smart details on your services. Most websites lack those contents. So, your website turns into a showcase only.
So, you are lagging in the digital world. Your website requires such write-ups aiming your audience. Only eye-catching contents can engage your clients properly. Of course, it's always important to link creativity with concrete information.