Current status of Bangladesh engine oil market
So far, those we are engaged in engine oil trade is uttering the market is growing. The engine oil market is growing in terms of consumption. But as a market observer, we would like to argue with this statement you all in some extends.
Let's talk a brief about the possible market size before.
Last year, the demand for total engine oil was around 160,000 tonnes. On a claim, the market growth is nearly 15% during the last three years.
The market has received a yearly 5% growth on an average during the last decade. The consumption of engine oil is likely to be around 165,000 tonnes for the year 2019, market insiders said.
Since 2009, the retail market of Tk 1,000 crore is now expected to be around Tk 3,000 crore this year, the growth analysis forecasted.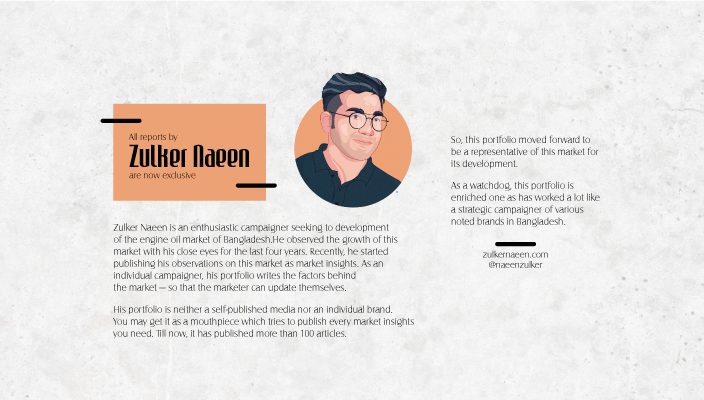 Articles by Zulker Naeen are now exclusive.
Zulker Naeen is an enthusiastic campaigner seeking to development of the engine oil market of Bangladesh.
He observed the growth of this market with his close eyes for the last four years. Recently, he started publishing his observations on this market as market insights.
As an individual campaigner, his portfolio writes the factors behind the market — so that the marketer can update themselves.
His portfolio is neither a self-published media nor an individual brand.
You may get it as a mouthpiece which tries to publish every market insights you need.
Till now, it has published more than 100 articles.
However, the lack of market research and least reporting make "Bangladesh Engine Oil Market" an unorganized trade.
So, this portfolio moved forward to be a representative of this market for its development.