The demand for automotive engine oils has surged in the past five years, owing to the rapid growth in the sales of motor vehicles in Bangladesh.
According to the International Organization of Motor Vehicle Manufacturers, the sales of new passenger vehicles witnessed an increase of nearly 30% in 2016-17, and the growth is expected to continue further, owing to the rising purchasing power of consumers and easier credit availabilities in the recent times.
Bangladesh is the fourth fastest-growing economy worldwide, with GDP of Bangladesh experiencing a continuous rise since the past 5 years, and this is expected to continue during the next five years.
Light motor vehicles and passenger cars are the fastest-growing sectors, also the largest consumer of automotive engine oil in Bangladesh. Lubricants are used in automobiles in the form of engine oil; coolants, brake fluids, and other transmission oils.
During 2013-2017, automotive vehicle sales have increased with an exponential rate, also expected to increase throughout 2019-2024. In 2017, according to the Bangladesh Road Transport Authority (BRTA), a total of 0.5 million vehicles were registered in Bangladesh.
The rising per capita income of the citizens leads to a rise in the living standards of the people, and thus, the demand for the automobiles is increasing.
Additionally, the sales of high-end cars have witnessed a massive surge in the country lately, with a growth rate of over 15% being recorded during 2015-18.
This, in turn, has spurred the consumption of semi-synthetic and synthetic engine oils in the country in recent times.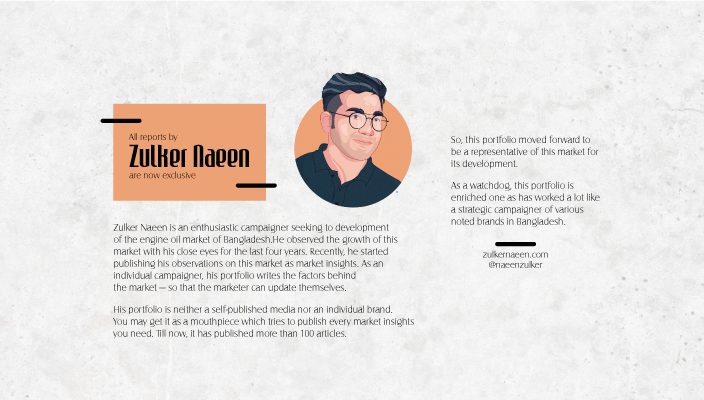 From now, all articles by Zulker Naeen are exclusive. Zulker Naeen is an enthusiastic campaigner seeking to development of the engine oil market of Bangladesh.
He observed the growth of this market with his close eyes for the last four years. Recently, he started publishing his observations on this market as market insights.
As an individual campaigner, his portfolio writes the factors behind the market — so that the marketer can update themselves.
His portfolio is neither a self-published media nor an individual brand.
You may get it as a mouthpiece which tries to publish every market insights you need.
Till now, it has published more than 100 articles.
However, the lack of market research and least reporting make
"Bangladesh Engine Oil Market" an unorganized trade.
So, this portfolio moved forward to be a representative of this market for its development.
Thanks to this portfolio that coined the term 'lubricants shelves of Bangladesh' to evaluate the current status of an individual brand.
Currently, a dedicated team is involved in research on the existing lubricants shelves of the retailer shops.
There are many enthusiastic those who rely on market development are working together for this portfolio.
As a watchdog, this portfolio is enriched one as has worked a lot like a strategic campaigner of various noted brands in Bangladesh.
It has done with the brand positioning of global brands here.
We know that the role of a campaigner is to achieve change. Being the agent of change, the role of this portfolio is not just preparing the market strategy or writing a report.
As a part of this campaign, Zulker Naeen's portfolio represents "Bangladesh Engine Oil Market" to update you by publishing market insights, current market trends, and market forecasts.
This portfolio aims to achieve change among every acquaintance of this market.