Zulker Naeen is associated with Orient Brand for the last 4 years as an employee of Oriental Oil Company Limited.
He concentrated his focus into product development of 'Orient Brand'.
Orient Lubricants, which is the first of its kind to domestic lubricants brand, developed its strategy to reach customers from every segment of our country with competitive price option and variety feature based on the preference of the customer.
Portfolio says he has worked closely on Orient Lubix Series, Orient Active Gear Series, Orient Ultima, Orient Ultra, Orient Automax, Orient Max 2, Orient Prima and so on.
His team has emphasized on the product demand of this market, based on their findings Orient has extended their product line-up, with the introduction of various economy litter packs like 0.6 litres, 2liters, and 3liters.
That has enriched the "Orient Brand" with various pack size to be a pioneer of the economy brand in Bangladesh.
Orient is one of the fastest-growing lubricant brands here in Bangladesh.
With an advanced blending technology, Oriental Oil Company Limited has been catering to the automotive and industrial segments since 2014.
Orient has true potential in several segments of this market.
Here, Orient has spread its product line-up into the automotive and the industrial oil segment.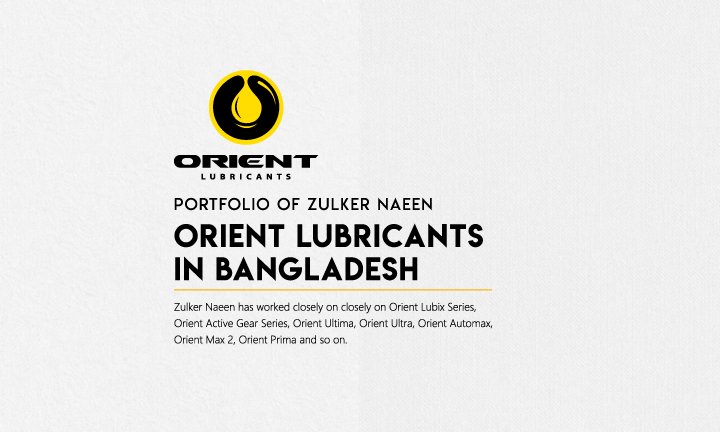 It also produces gear oils and transmission oils for all automotive applications.
Its repertoire of automotive products includes high-performance engine oils for buses, tractors, medium or light commercial vehicles, passenger cars, and two-wheelers.
Millions of users have at one time or another used Orient Lubricants for their purposes.
For industrial application, it manufactures various types of conventional and special application oils, greases, and customized products to meet the typical application requirement.
Orient is the flagship brand of Oriental Oil Company Limited which is one of the renowned marketers of several global brands in Bangladesh.