The High Court Division directed the authorities concerned to ask refuelling stations not to sell fuel to those vehicles without valid fitness documents on October 23.
It also ordered the law enforcers to strictly monitor refuelling stations across the country so that they do not supply fuel to those unfit vehicles.
In turn, this directive will keep the unregistered vehicles idle in the roads and bus depots.
Consequently, the lube market has to receive a significant drop in oil demand in the upcoming months. Mostly, it may cause the sales drop of the diesel engine oil segment.
People involved in the transport sector said the number of outdated vehicles has decreased in recent years.
So far, the outdated vehicles are the key consumers of the diesel engine oil, also consumed 45% of total demand for the transport sector.
It is a forecast that, the demand for the engine oil may not as significant like the previous year because of the unexpected flood in this quarter, and the declined prices of rice and paddy recent years.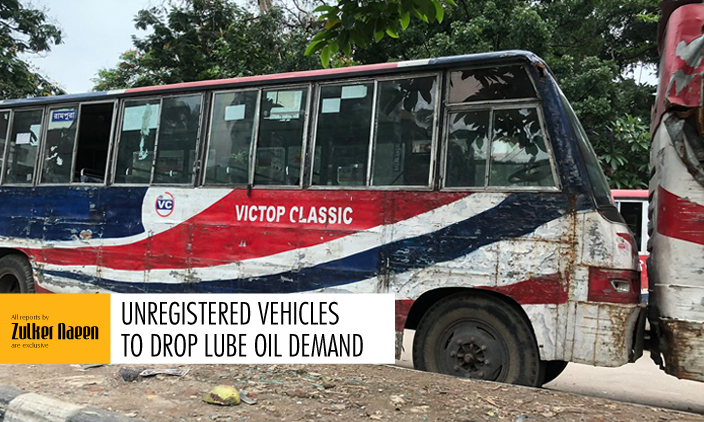 BRTA placed a report before the court in July, stating that 4,58,369 vehicles without valid fitness certificates were on the roads.
Of them, owners of 89,269 vehicles renewed fitness certificates in the last two months, the report said.
Of the total vehicles without fitness certificates, over 2.61 lakh were in Dhaka division, over 1.19 lakh in Chattogram division, over 26,000 in Rajshahi division, over 6,000 in Rangpur division, over 15,000 in Khulna division, over 44,000 in Sylhet division and over 5,000 in Barishal division, BRTA submitted in its report.
However, the state-run organization has no specific data of how many vehicles among the 4,58,369 got their fitness certificate renewed in the two months.
Around 14.22 lakh vehicles are required to have their fitness certificates renewed annually.
But the BRTA data shows that only 5.75 lakh vehicles renewed their fitness certificates in the last fiscal year.
Around 1.40 lakh received fitness clearances in the first three months of the current fiscal year.
There are several lakh unregistered vehicles in the country.
BRTA also prayed for a directive to the refuelling stations to stop selling fuels to the owners of unfit vehicles.