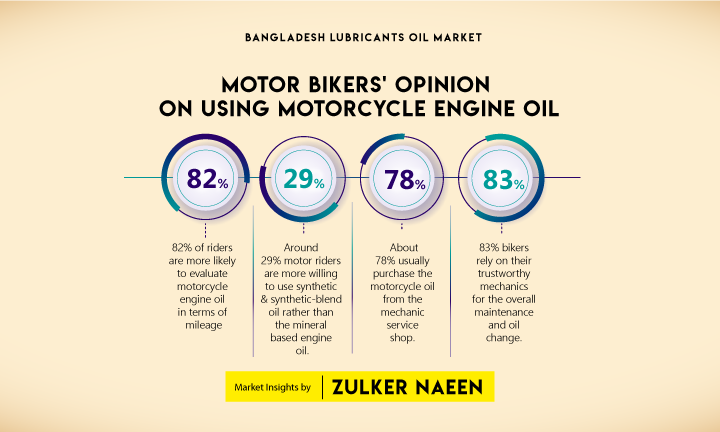 The popularity of Pathao and Uber Moto has already increased the two-wheeled traffic in Dhaka, also increased a 44% uptake in the sale of motorbikes.
The emergence of ride-sharing companies has already initiated a mobility revolution, impacting motorcycle oil demand due to more frequent oil drain intervals in the near term.
Consequently, the motorcycle oil demand will change as a reaction to trans formative venture redefining mobility, including the advent of ride sharing.
That is why our team was interested to understand the perception of using motorcycle oil in this metro.
We conducted a survey on 200 motorcycle riders of Dhaka city to understand the personal view of using lubricating oil.
Are the motorcycle riders really concerned about the quality motorcycle engine oil or not?
Findings say that 82% of riders are more likely to evaluate motorcycle engine oil in terms of mileage. Around 29% motorcycle riders are more willing to use synthetic and synthetic-blend oil rather than the mineral based engine oil.
It also reveals that the expense for purchasing engine oil ranges from 500 BDT to 600 BDT is acceptable; however, most of them aren't properly aware of the mileage offered by different mineral based, and synthetic-blend, synthetic oils.
About 83% bikers rely on their trustworthy mechanics for the overall maintenance and oil change. They usually take suggestions from their mechanics about the motorcycle oil.
78% usually purchase the motorcycle oil from the mechanic service shop. Surprisingly, we found about 12% bikers purchase their preferable engine oil can personally from the reliable retailer shop.
It has found that most motorcycle riders are always in the search of the perfect engine oils; as they don't want to compromise with their engines and better mileage.