Thanks to state-led infrastructure expansion, rampant deforestation has left tigers and bears without any place to find food, and it has resulted in many violent attacks.
Welcome to our Climate Blog!
This week, we'd like to introduce Raqib Hameed Naik, a courageous multimedia journalist based in Kashmir, who has been telling the story of climate change and mega-development at the edge of Modi's nationalist expansion.
As Salamu Alikum!
I am Raqib, writing to you from a region knows for its mountains, beautiful valleys, and unfortunately, a continuous conflict. These days Kashmir is the most militarized zone on the earth and is struggling to contain the spread of contagious Coronavirus with more than 114,407 cases and 1767 deaths.
But thanks to state-led infrastructure expansion, rampant deforestation has left tigers and bears without any place to find food. It has resulted in many violent attacks. Over the past five years, 65 people have died, and 940 have been injured in animal attacks across Kashmir. I live in the main town in Doda district. On some nights, we have tigers taking a stroll in the residential areas. Would you like to come and visit??
In my reporting, I met families who were among the 20,000 people impacted or displaced by these dams. Experts told me that the dams are a threat to the delicate ecology of the region, and could increase seismic activity in the region.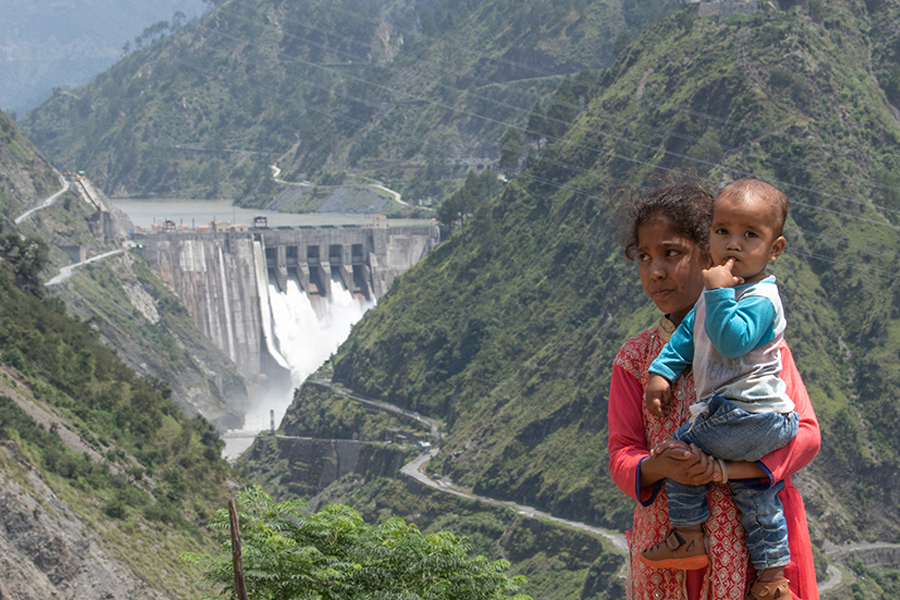 This photo is one I took of A girl holding a child at her house on a hill next to Baglihar Dam in Ramban district.
Since the publishing of the story, many people are now worried about the scale of the projects, labelling them as part of India's colonial quest to exploit Kashmir's resources.
Erratic rainfall due to climate change is also affecting Kashmir's most significant spice trade, saffron. During my early reporting trips, I still remember passing purple saffron fields near Srinagar district.
The experience was always soothing. But recent reports suggest the farmers are suffering, as crop yields have dropped by nearly 65% in the last 20 years. It has affected thousands of families in Kashmir, especially women, who make up half of all of Kashmir's saffron farmers.
If we go by a University of Kashmir study published this year in the journal Climatic Change, Kashmir is set for an astronomical temperature to rise of 7 degrees. That spells trouble for Kashmir's most important spice, let alone our disappearing glaciers.
I remember, some 18 years ago, the average temperature during Summer in my home would hover around 30 to 35 degrees.
It was hot, but you could manage just fine with fans alone. But now, the temperature touches 40 degrees, and air conditioners have become a necessity.
While air conditioning is becoming critical, Kashmir has always felt like a never-ending saga of problems. From unending conflict, 30 years of human rights abuses at the hands of Indian forces and now a forceful demographic change under Modi's Hindu nationalist government, we have braved it all.
But since his government rescinded Kashmir's special autonomy last August, I feel like they have ramped up their crackdown on journalists, activists and environmental defenders. For my friends and family, the road ahead to fight climate change, seek accountability and challenge potentially disastrous infrastructure projects seems arduous, if not impossible.
Thank you, though, for listening.
To Read: Regional Energy Trends: A comparison of the five countries analysed
To Read: Brazil vows Biden won't change environmental policy – after 94,000 fires
About Zulker Naeen
Climate Journalist
Zulker Naeen is a South Asia Fellow at Climate Tracker. With three years of working experience, he has developed courses with the support of other Climate Tracker staff.
As a young climate advocate, his fellowship aims to share knowledge of climate change. Climate Tracker is a global media network closely works on Climate Change.
Latest Post
To Read, Japan's threatened fields of green.
Tea farmers in the Asian country have long enjoyed a very stable and predictable climate, but as global warming and Covid-19 upends that equilibrium, they respond with new ways to farm and sell their products.
If you have any questions, comments or want to get involved, email Zulker Naeen at naeenzulker@gmail.com – that's me. I'd love to hear from you…….and don't worry, I'm locked inside too. And if you've been forwarded this email and liked what you saw, why not subscribe?